Tours around Armenia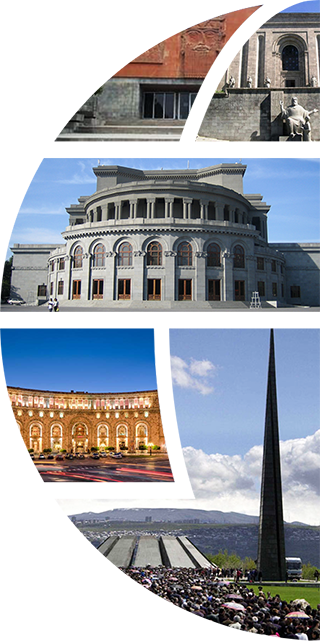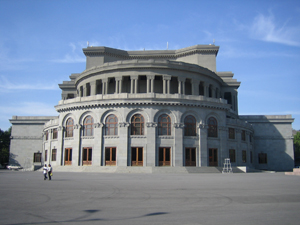 Starting from the heart of the city, at Republic Square, with the help of our tour guides you will reveal all the treasures of our city. A number of architectural masterpieces, various art works, monuments will catch your attention in every step. Some of the key sites that will be visited during this tour are the Opera House, Victory Park, the Cascade, the sculptures of urban planner and the Architect of Yerevan Alexander Tamanyan, world renowned Soviet-Armenian Composer Aram Khachatryan, etc.. Our working team will advise you the best restaurants in Yerevan, which will warmly welcome you not only to taste various traditional dishes, but also enjoy Armenian traditional songs and dances.
Art Tours
Armenia is considered to be a museum under the open sky and Yerevan - its Art Gallery. We offer visits to the following museums and galleries:
Matenadaran
Built in 1957, Matenadaran (depository) is rich in ancient manuscripts, such as illuminated scriptures and miniature paintings. It is also a key institution for the study and preservation of Armenian literature. The magnificent Soviet-style building stands proud at the top of Mashtots Boulevard with a massive statue of the founder of the Armenian Alphabet, Mesrop Mashtots.
Museum of Sergey Parajanov (1924-1990)
Parajanov, the inventor of a unique cinematic style, was born to artistically-gifted Armenian parents - Iosif Parajanov and Siranush Bejanova, in Tbilisi, Georgia. His childhood was blessed with having access to art at an early age. His oeuvre is poetic, artistic and visionary. But as it was highly unfit with the principal rules of socialistic realism he has been a persona non grata in Soviet cinema for a long time. A wild collection of Parajanov's unique pieces are displayed in his home-museum on the cliffs of Hrazdan gorge.
Among the most famous films: The Color of Pomegranates, Shadows of Forgotten Ancestors, The Legend of Suram Fortress.
National Art Gallery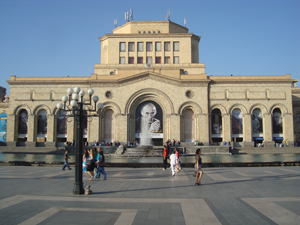 The National Art Gallery is the country's major gallery. Its collection is displayed in 56 galleries, which allow the Gallery to tell the story of national visual, decorative-applied arts, as well as world culture from ancient times to our days. In the galleries of European, Russian, Armenian and Oriental art the visitors are introduced to the art of Ayvazovski, Sarian, Kandinskiy, Donatello and other distinguished artists.
Erebuni Museum and Fortress
Founded in 782 BC by King Argishti I, the Erebuni Fortress, a large Urartian military complex, is rising on the hill Arin Berd in the south-east of Yerevan. It was in 1950, during an exploration of Arin Berd monument, that an inscription by Argishti I was discovered, which reads: ''To (God) Haldie, the Lord, did Argishti, son of Menua, built this splendid fortress and named Erebuni…''
Erebuni is Yerevan's oldest name – from Erebuni to Iripuni, Erivuni, Erivan and currently Yerevan.
Tsitsernakaberd and the Genocide Museum
It is a memorial dedicated to the victims of the 1915 Armenian Genocide that took place in Ottoman Empire carried out by Turkish Government. It is located on a hill overlooking Yerevan. Every year on 24th of April, hundreds of thousands of Armenians all over the world gather here. An adjacent museum was built as a depository of documents and new research dealing with the study of Genocide. Many prominent personalities worldwide have planted a tree in honor of the memory of the victims of this Genocide.
Yerevan Night Tour (beginning 19:30)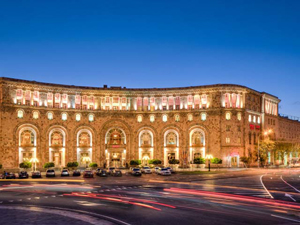 Yerevan is attractive not only during the day; it has a busy night life that has been luring more visitors to explore its beauty at night. We begin the tour from the Opera Square along the Cascade and go up to Mother Armenia Monument from where one can admire the beautiful panorama of the city. Afterward, we go to the Republic Square to enjoy the nice view of the unique flower in the square – the colorful and singing fountains. Trip will be over by visiting one of Jazz Clubs in Yerevan: Malkhas Jazz Club or Paplavok for performances of Armenia's best musical talents.
Yerevan city tour:Duration:5 hours
Minimum 2 persons-------------------------------10.000 AMD (per person)
Additional persons--------------------------------5.000 AMD (per person)
Traditional Armenian Lunch---------------------4.000 AMD (per person)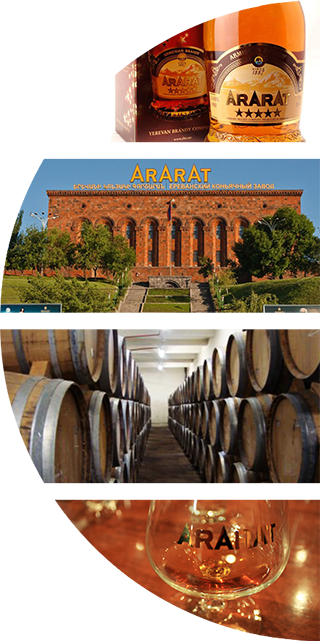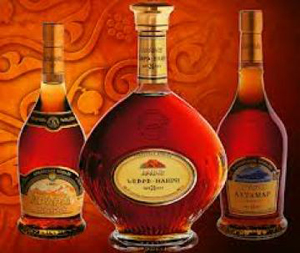 The whole history of brandy production in 1 hour…
Starting from grapes as witnesses in the birth of ARARAT Brandy…
Take an advantage of the unique opportunity given by the ARARAT Heritage Center of Yerevan Brandy Company.
French, English, Russian and Armenian speaking guides will lead you to the fairyland of the world-famous Ararat Company.
DURING THE TOUR
Aging workshop: Learn about the magic transmission of eau-de-vie into brandy. Feel and breathe the ''Angel' share''.
Museum: Be the part of the Legend of ARARAT
Bar: Taste and discover every nuance of our sunny beverage
Shop: An exclusive chance to buy genuine brandy, take advantage of the special offers
History
The history of brandy making in Armenia goes back to 1877, when the first guild merchant Nerses Tairiants constructed the first factory of wine and vodka on the site of former Yerevan Fortress and here in 1887 he started the brandy production.
Tairiants' factory was equipped with two distillers. In 1899 Tairiants sold his factory to the mighty Russian commercial industrial company ''Shustov & Sons'' and the frame of Armenian brandies went far beyond Russia, enjoying the highest honor of being the purveyor of the Court of Russian Emperor Nikolay II. Later the factory became the property of Soviet Armenia and in 1999 it joined the group Pernod Ricard.
Brandy company tour:
Tour duration------------------------------------------------------------------------------(1 hour)
With degustation of ARARAT 3* and AKHTAMAR brandies-----------------------5.000 AMD (per person)
With degustation of AKHTAMAR, NAIRI and DVIN brandies----------------------10.000 AMD (per person)
Echmiatsin: Holy Echmiatsin Cathedral, St. Hripsime, Zvartnots Cathedral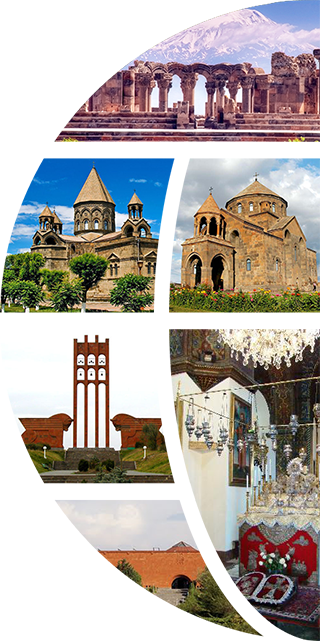 Echmiatsin Cathedral (4th Century)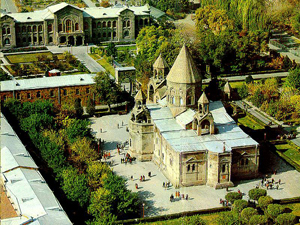 Holy Echmiatsin Cathedral is the heart of the Armenian Apostolic Church. Founded in the 4th century, it is securely located in a walled compound. Allegedly, St. Gregory the Illuminator had a dream, where Jesus Himself descended from above pointing the place where the very church must be built.
This is where the Catholics of All Armenians reside like the Pope at Vatican City.
St. Hripsime Church (618 AD)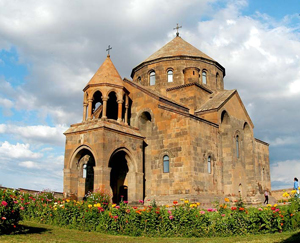 This is one of the most superb Armenian architectural creations from the classical era. With Mount Ararat as its backdrop, this beauty stands majestically as one of the symbols of Christianity in Armenia.

Zvartnots Cathedral (7th century)

Zvartnots (celestial angels) was built as the main cathedral and has a vital architectural value. This unique design is singled out from all other Byzantine styles.
Optional – Sardarapat Memorial Complex and Museum
Sardarapat Memorial Complex and Museum

Sardarapat Monument commemorates in 1918 the victory of the Armenians who defeated the invading Turkish army.
A provisional Armenian government was formed that led to the declaration of an independence of the Republic of Armenia on 28th of May. The monument is decorated with wonderful ornaments such as the massive winged bulls made of red tuff. The ethnographic museum of the Complex includes commemorative items from the battle as well as archeological artifacts from Neolithic-Medieval times.
Echmiatsin Cathedral
Tour duration--------------------------------4 hours ( 5 hours with lunch)
Minimum 2 persons------------------------14.000 AMD (per person)
Traditional Armenian Lunch--------------5.000 AMD (per person)
Additional persons-------------------------4.000 AMD (per person)
Optional: Sardarapat Tour:
Additional persons(2 hours)------------------------------5.000 AMD (per person)
Garni Pagan Temple, Geghard Monastery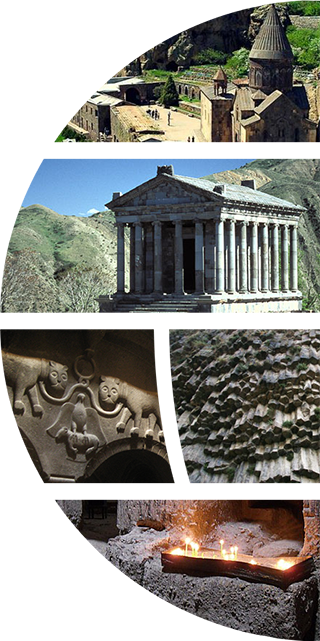 Garni Temple (I century AD)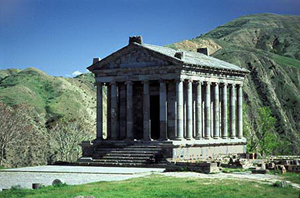 This ancient pagan temple of the first century AD was built by King Tiridat I. In the vicinity one can see the ruins of intricate mosaic baths. It is said that Garni had been Princess Khosrovadukht's summer residence. The view of Garni Gorge is simply breathtaking. Along the sides of the gorge there are cliff walls of well-preserved basalt columns, carved out by the Goght River. This portion is typically described as the ''Symphony of Stones''.
Geghard Monastery (10th-12th centuries)
Partly carved out of the mountain, Geghard is an incredible ancient monastic complex. Though the monastery has been around since 4th century, the main cathedral was built only in 1215. Inside the walls of the complex, at the end of the road one can visit all the churches which are interconnected. It is listed as a UNESCO World Heritage Site. The monastery had thus been originally named Ayrivank, which means ''The Monastery of Caves''. The name commonly used for the monastery today, Geghard, or more fully Geghardavank means ''Monastery of the Spear'', which originates from the very spear that wounded Jesus at the Crucifixion, allegedly brought to Armenia by Apostle Jude, here called Thaddeus, and stored amongst many other relics. Now it is displayed in the Echmiatsin treasury.
Garni Temple,Geghard Monastery: Tour duration: 4 hours (5 hours with Lunch)
Minimum 2 persons-------------------------17.000 AMD (per person)
Additional persons--------------------------6.000 AMD (per person)
Traditional Armenian Lunch---------------5.000 AMD (per person)
Khor Virap Monastery, Noravank Monastery, Areni Village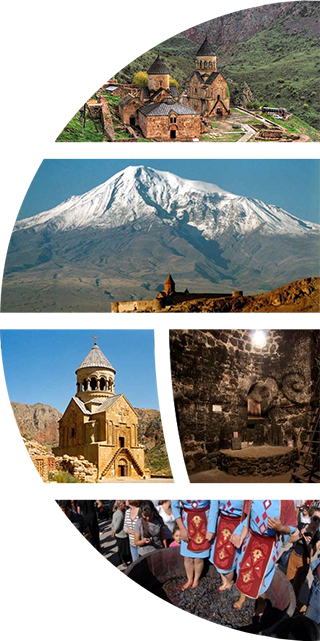 Khor Virap Monastery (4th century)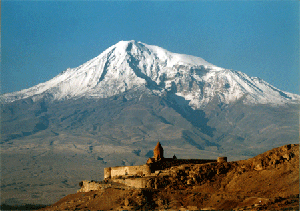 Khor Virap is located inside the monastery walls which sit at the top of a hill overlooking Mount Ararat at the closest possible range from the Armenian border. This site is the exact place where St. Gregory the Illuminator was imprisoned in a pit for 13 years before he performed a miracle by curing King Tiridat III of a fatal disease. In return, the King and the Armenian nation converted to Christianity in 301 AD, making it the first official Christian nation in the world.
A visit to the underground chamber is included.
Noravank Monastery (12-14th centuries)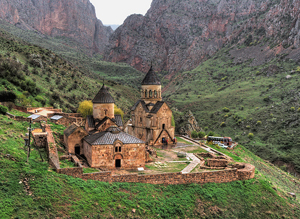 Through the narrow gorge of the Darichai River, the 13th century monastery is surrounded by sharp, red cliffs. Noravank includes a two-storied church of St. Astvatsatsin (Holy Mother of God). A narrow stair-like carving on the facade leads the visitors to the second floor. Noravank has been a cultural and religious center since the 13th century, when it became a residence of Syunik's Bishop.
Areni Village

Known for its sublime production of Armenian wine, this village is spread out in front of a breathtaking landscape. Naturally captivating, the vineyards grow sweet, dark red grapes which have become a symbol of Armenia.
This tour will end in Areni and you will enjoy a wine-tasting extravaganza.
Khor Virap & Noravank Monasteries: Tour duration: 8 hours
Minimum 2 persons-------------------------30.000 AMD (per person)
Additional persons--------------------------15.000 AMD (per person)
Traditional Armenian Lunch---------------5.000 AMD (per person)
Lake Sevan Peninsula: Sevanavank Monastery: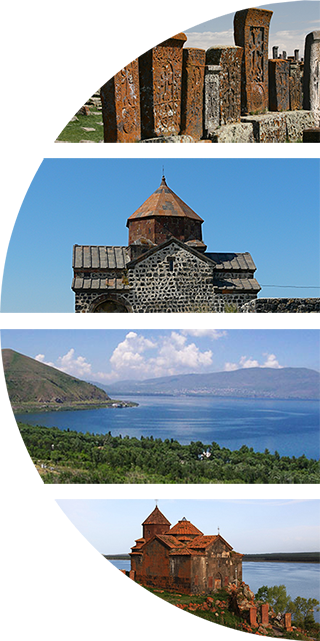 Lake Sevan Peninsula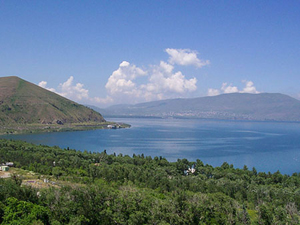 At about 2000 meters above sea level, Lake Sevan is the blue gem of Armenia occupying about 5 % of its surface.
Its white sandy beaches can be seen from the peninsula where the Sevanavank monastery, consisted of two churches, proudly stands as the guardian of the Lake.
Optional- Hayravank Monastery & Noratus
Hayravank Monastery (9th-11th centuries)

Hayravank monastery encompasses a late 9th century church, a 12th century gavit, and landmarks with a nearby area of Iron Age tombs. There is a breathtaking view of Lake Sevan from the Monastery.
Noratus: The Largest Field of Khachkars (Crossstones)

With eminence of St. Grigor Lusavorich (Illuminator) church (9th-10th c.), St. Astvatsatsin (Holy Mother of God) basilica (9th c.), Noratus is mostly known for its reputation as being the largest landmark cemetery in Armenia.
Sevanank Monastery: Tour duration: 4 hours (5 hours with Lunch)
Minimum 2 persons--------------------------------24.000 AMD (per person)
Additional persons---------------------------------12.000 AMD (per person)
Armenian Lunch by Lake--------------------------5.000 AMD (per person)
Optional: Hayravank and Noradus Tour:
Additional duration (2 hours)------------------------5.000 AMD (per person)
Haghpat & Sanahin Monasteries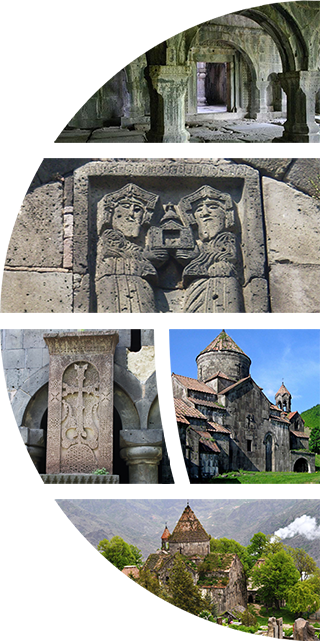 Haghpat and Sanahin Monasteries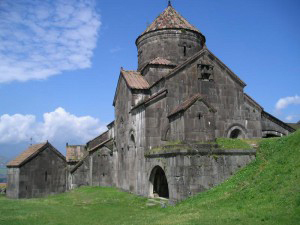 In the very north of Armenia, within a few kilometers from the town of Alaverdi, stand the twin monasteries known as Haghpat and Sanahin. ''Sanahin'' relates to Haghpat with the meaning (Sa-na-hin) – ''this one is older than the other''. Both of these medieval Armenian masterpieces were established by the Bagratuni Dynasty, namely Queen Khosrovanush, in the late 10th century. For many centuries, these two monastic complexes played an important role in the development of Armenian culture and literature. Besides the creation of many intricate miniature paintings and decorative hand written scripts, Sanahin was known for it is in depth study of humanitarian sciences and medicine. Apart from the many damages caused by enemy attacks during the past centuries, natural disasters have marked their effects on these important monuments, too. Both monasteries, which have been incorporated as part of UNESCO Heritage Sites for international protection, are adorned with a splendid landscape.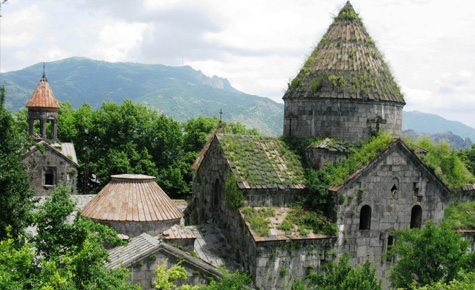 Haghpat & Snahin Monasteries: Tour duration: 11 hours
Minimum 2 persons-------------------------43.000 AMD (per person)
Additional persons--------------------------20.000 AMD (per person)
Traditional Armenian Lunch---------------4.000 AMD (per person)
Tsaghkadzor: Kecharis Monastery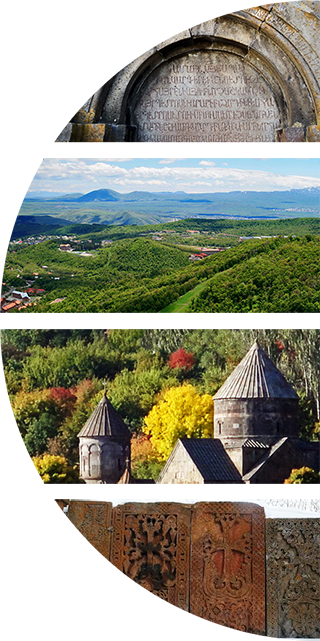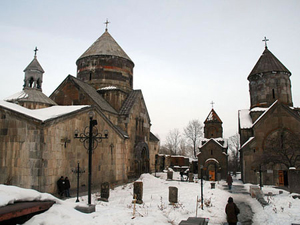 Tsakhkadzor (Valley of flowers) is considered to be one of the most popular winter resorts of Armenia. It is a unique spot to discover Armenia's diverse flora and fauna. Located in Kotayk region, 50 kilometers north of Yerevan, this resort town is surrounded by lush green forests and alpine meadows.
Built in 11-13th centuries, Kecharis Monastery consists of four churches and a half-destroyed mausoleum of Grigorius Pahlavuni, who financed construction of the monastery. Experience the modern rope way stretching through the Teghenis mountain.
Tsaghkadzor: Kecharis Monastery: 5 hours
Minimum 2 persons-------------------------16.000 AMD (per person)
Additional persons--------------------------5.000 AMD (per person)
Traditional Armenian Lunch---------------5.000 AMD (per person)
Nagorno Karabagh
Trip to Nagorno Karabagh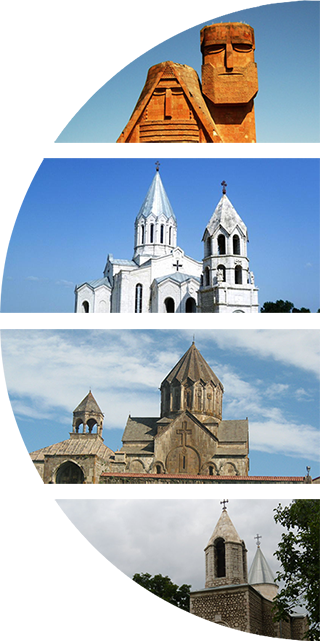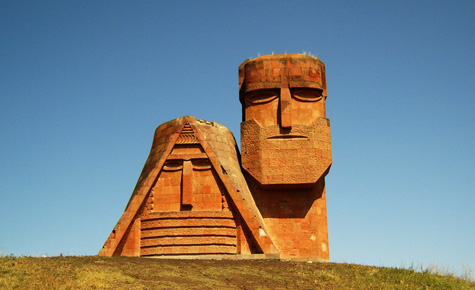 Day 1:Departure from Yerevan. The first stop is in Khor Virap Monastery, where Gregory the Illuminator was imprisoned for 13 years. Next stop will be in Noravank Monastery surrounded by gorgeous red-colored mountains (11-14th centuries).Lunch. Panoramic view of Goris town. Arrival in the capital of Karabagh, Stepanakert. Rest at the hotel. Dinner. Evening walk in Stepanakert.
Day 2: Breakfast. National History Museum of Stepanakert. Trip to Gandzasar Monastery (13th c.), the religious center of Karabagh. Coffee break. Visit to Askeran Fortress. Stop at the monument ''We are Our Mountains'', the symbol of Karabagh. Dinner. Evening walk in Stepanakert.
Day 3:Breakfast. Shushi city tour – Shushi Fortress, Ghazanchetsots Complex. On the way back to Yerevan a visit to Jermuk spa & resort town. Lunch. City tour. Waterfall reminding bride's falling hair, degustation of hot mineral spa water from springs. Arrival in Yerevan.
Nagorno Karabagh Tour: Tour duration: 2 nights, 3 days
Minimum 2 persons-------------------------150.000 AMD (per person)
Additional persons--------------------------Contact us
Tincludes-------------------------------------Transportation + Double room accomodation for 2 nights